This post is also available in:
Norsk bokmål (Norwegian Bokmål)
Deutsch (German)
Many of you have answered our annual user survey, and just like last year, we see requests for features that we already have. So we would like to share some quick "answers" in this blog post.
Haven't done the survey yet? We appreciate if you can take the time to complete it 🙂
We are not that hard to contact
Several have answered that we're not that easy to get in contact with. It shouldn't be that hard, so we want to quickly repeat how to contact us.
You will get the fastest response by submitting a support request on https://cachetur.no/kontakt/ny
But you can also reach us through our Facebook page or our any of our Facebook groups.
Things we already have
Child waypoints on caches
We are already fetching all child waypoints for all caches. They are visible in the waypoint list, included in print outs (if selected) and can be imported as waypoints in the trip.
They are displayed at the bottom of the extended waypoint details view, and can be included in print outs by selecting it in the print dialog.
You can copy the child waypoints to the waypoint list by selecting Copy waypoints from cache to trip in the waypoint menu.
Route optimization
We've recently done several improvements to the automatic route optimization tool. And the limit is now 80 waypoints – but you can run the optimization on several subsets of the waypoints to avoid being limited by that limit.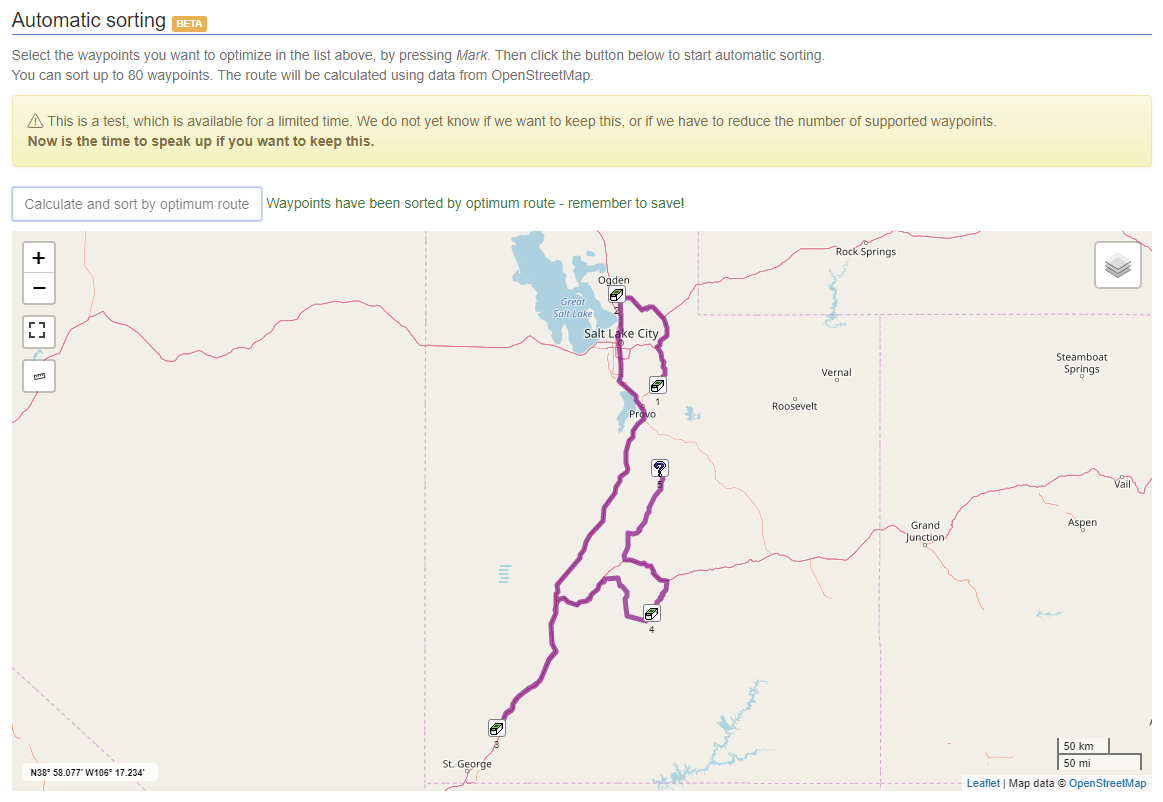 Map in the app
The app has had a map available since it was released, but it might not be so easy to find.
To show it, simply click on the three dots in the upper right corner of the trip details screen. The map has a similar menu, where you can enable location and follow.
Adjusting time calculations
It is close to impossible to accurately calculate stop times for all geocaches for all geocachers. Most of us are different, and we cache in different ways. And that's why you can adjust the calculations to suit your caching style.
The easiest adjustment, is to override the time completely in the quick edit box.
But you can also adjust some parameters in the trip settings.
Update corrected coordinates for all caches in a trip
Import of corrected coordinates for an entire trip can be done from the Edit trip menu, and export from the Download menu.
Things we intend to work on
We have gotten a lot of requests for more information and features in the app, and the possibility to submit logs through cachetur.no.
We hope to be able to work on both in 2019.
Things we don't intend to work on
We have absolutely no ambition to compete with other geocaching and navigation apps.
Things others do better than us, like making geocaching apps, is best handled by them. Our goal is to add functionality on the top of that, and if possible integrate and communicate with other apps and services.
This is also a question about time an resources. If we were to make a fully featured geocaching app, we wouldn't have time or money to run and maintain cachetur.no.
This post is also available in:
Norsk bokmål (Norwegian Bokmål)
Deutsch (German)