This post is also available in:
Norsk bokmål (Norwegian Bokmål)
Deutsch (German)
This blog post is our monthly(-ish) newsletter style blog post. Cachetur.no has always been open, and to ensure that we stay open we want to use this newsletter to share information about what's going on.
We are still not fully back to normal development speed after the summer, and due to a lot of events and activity during the next four weeks, we won't get back to full speed for another month.
Recent changes
We have upgrade the checklists in the app, and added support for custom checklists. Go to the Checklist page to create your own checklists. Then open checklists and click the download icon to download your checklists in the app. The app also got a list of upcoming nearby events.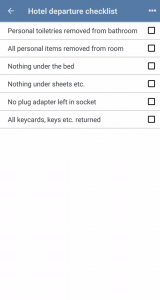 We're also testing a new route optimization feature. Read more about it here, give it a test, and give feedback on this quick survey.
We removed the old Help button in the menu, and replaced it with a much better help menu.
We have done various improvements to moderator and admin tools, and various internationalization improvements.
We've fixed various bugs, and added some new ones to fix later 🙂
Things we're working on now
We have finished organizing and merging all lists of ideas and bugs we've gotten during the summer. We have slowly started working on fixing some bugs, and implementing the easiest features.
We are currently working mostly on the new route optimization feature and the app checklist feature.
The app was brand new this summer, and as expected we do have a lot of ideas to work on. Please take the time to complete our app survey.
Things we intend to work on soon
We have two major tasks we have to work on during the last months of the year. The app, and migrating to the new Geocaching.com API.
We have deliberately waited with the second one, as the new API was missing a lot compared to the old. Much has been added now, and we should be able to start migrating as soon as we are ready. This won't affect you, but it will take development resources.
There's also a lot of other minor changes we want to do, and we are considering adding logging functionality to cachetur.no (allowing you to log your finds directly from cachetur.no).
Upcoming events
Attending a cachetur.no event, class, talk etc. is a nice way to learn more about the site. Our wonderful ambassadors, and even some really cool users, will be attending several events during the next months.
Event
Region
What
October 20th


GC7XVMW Tech-helg, lørdag: Bli lur på cachetur!

Agder
Norway
Beginner course and
Class/workshop with thomfre
November 3rd


GC7MX37 Mega Sweden FAD 2018

Sundsvall
Sweden
Talk with Korsgat
November 18th


 GC75D90

 The Parkville Event 2018
Victoria
Australia
Talk with Bukkazoom67
November 25th


GC7GAZP Den polévky gazpacho 2018/Gazpacho soup day 2018

Prague
Czechia
Class and workshop with Quox
Our economy
Running cachetur.no require a constant focus on our expenses, we want to provide you the best service we can, but we can't consume more services than we are able to pay for.
After the blog post we wrote about a week ago, the economy took a positive turn. We just need to keep it up this way now 🙂
Thank you to all of you that have contributed!
Remember that all of us that work on this site (and app), including developer and all ambassadors, do this for free in our spare time. Cachetur.no does not pay anyone 🙂
Other related news
Remember the current and upcoming souvenirs:
This post is also available in:
Norsk bokmål (Norwegian Bokmål)
Deutsch (German)