This post is also available in:
Norsk bokmål (Norwegian Bokmål)
To make the Cachetur Assistant compatible with other user scripts (like PGC and GClh), we have redesigned parts of the UI and released version 2.8.0.0 today.
Some things are just like before
Bookmark lists, GeoTours, and everything on Project-GC remains unchanged. We have only changed the user interface on geocache detail pages and on the geocaching.com map.
We had to find a new place to put our icons/buttons to make the Cachetur Assistant fully compatible with the other scripts.
Note: this does not mean that we can, nor will, guarantee full compatibility forever.
New menu on the geocache details page
On the cache details page, we moved everything down to a separate section in the right side menu.
The menu is expanded after the cache has been sent to cachetur.no:
The indication on caches found by participants of the trip is now a lot more visible: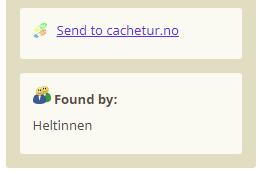 New menu row in the map popup
We had to move things around on the map as well. So we opted for a new menu row, below the existing. This is the same as other scripts do. This also places the link to send caches closer to the mouse pointer, which in theory should make sending a lot of caches easier.
Just as on the details page, found status is a lot more visible here now:
Show caches on map
A couple of days ago, we added a brand new feature to the Cachetur Assistant. The button below will add all caches in your trip to the map. This works both on geocaching.com and on Project-GC.
There are many uses for this button, one of them is to quickly check if you have planned caches in all counties along your route:
This post is also available in:
Norsk bokmål (Norwegian Bokmål)