This post is also available in:
Norsk bokmål (Norwegian Bokmål)
Are you tired of difficult mystery caches, reverse-wherigo caches, puzzles etc?
We have the solution you need! We have just released AutoSolve. AutoSolve allows you to automagically solve the most common mystery/wherigo/multi/letterbox caches. The function will automatically update the corrected coordinates, and you can easily transfer them to geocaching.com if you want to.
Solves the most common types
AutoSolve is capable of solving the most common types:
Most puzzle based (jigidi etc)
Most reverse wherigo caches
Most based on Google Maps
Coordinates hidden in the description or in HTML comments
Coordinates hidden in pictures in the cache description
If AutoSolve fails to automagically solve the puzzle, it will try one last thing before giving up. All pictures with geotagged EXIF data in the cache gallery will be checked. If coordinates are found, and they all appear to be in the same area, not too close to other caches, those coordinates will be used.
Solve for all caches in the trip
You can run AutoSolve for all the caches in your trip by clicking "AutoSolve" in the "Edit trip" menu.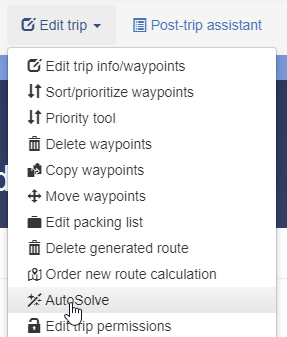 Once the puzzles have been solved, a message will appear. You can easily copy the coordinates to geocaching.com by clicking the link in the notification.
Solve for just one cache
You can also run AutoSolve for just one cache. Simply click "AutoSolve" in the waypoint menu.
This post is also available in:
Norsk bokmål (Norwegian Bokmål)