This post is also available in:
Norsk bokmål (Norwegian Bokmål)
We've had a busy month on Cachetur.no, and added lots of new features. We're taking a Christmas break for a few days now. Cachetur.no will of course remain open 😉 And we will still try to answer support requests as quickly as possible.
You will find a summary of all the changes we've done the last month further down in this blog post. But first, we would like to wish you:
HAPPY HOLIDAYS!
We hope everyone enjoys the time with their families, and maybe also find a few caches?
Notifications
We have added a new notification framework, to make it easier to notify users of changes, comments, new trips, cache suggestions, invitations etc.
If you have any new notifications, a orange badge will appear in the menu: 
Click on it to show your notifications. Click on any notification to mark it as read, and navigate to the trip/list/etc.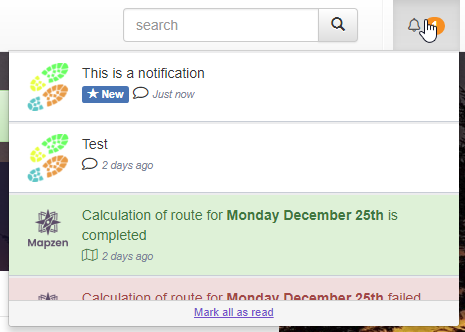 Markdown
We have added support for Markdown, so you can format your trip descriptions, comments, support requests etc.
You can add bold text, italic text, tables, quotes etc. Read more about Markdown in our help center.
Comment edit
This is something we've had in our backlog for a long time. But now we've finally added support for editing comments.
Pictures in comments and waypoints
We have added support for pictures in comments. You can either select a photo to upload together with the comment, or just paste an image from the clipboard.
Shortly after we added that, we got a request to support pictures in waypoints as well. So we added that too. Very useful for custom maps, ferry schedules etc.

Custom background photos
We also added support for custom background photos, both in general (in your user settings) and for each trip (in the trip settings).
Custom URL-shortener
We have created our own URL-shortener, gc.link. It has more features than the old coord.info by geocaching.com. And in many cases, it seems to work faster as well.
Take a look at the help page of gc.link.
Did you know that…
We added a "Did you know that…" to hopefully highlight some lesser known features. We will continue to add new information to it.
New waypoint types
Distance info
The waypoint type for remaining distance is used to show the remaining calculated driving (or walking) time to the end of the trip.
You can customize the name and comment of the waypoint
Geocaching Australia
We also added a new waypoint type for Geocaching Australia geocaches. It's not connected to the API yet, but that might be a possibility in the future.
Calendar accessible to all countries
We have started to automatically load all events for a lot more countries. And therefore also decided to open the calendar to users from all countries (previously only available to Scandinavian users).
Set priority directly from the Cachetur Assistant
You can now set priority directly from the Cachetur Assistant.

Improvements to the support system
We have made several improvements to the support system.
We've moved some information around, added online status indication and expected response time. You will now also see a list of all your open cases on the top of the new request page. And you can paste pictures directly from the clipboard to the request message. We've also improved the admin side of it.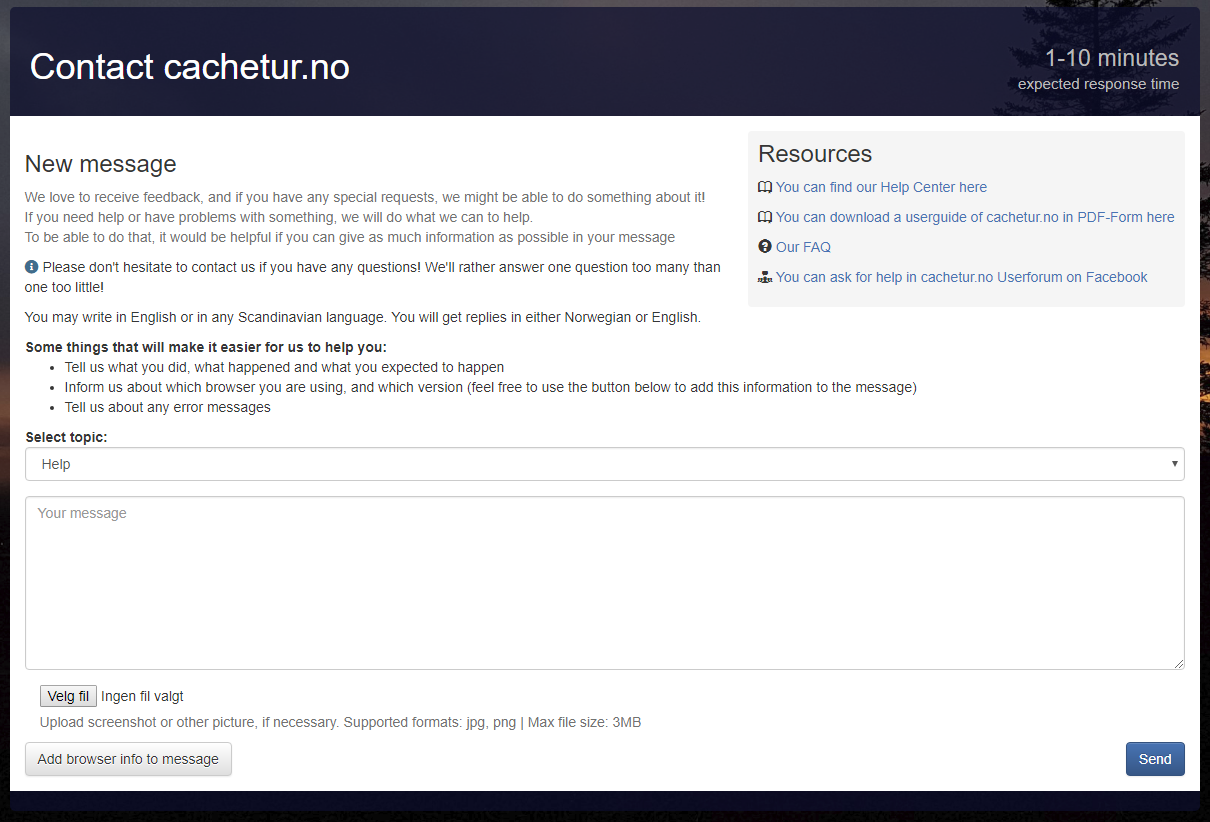 Improvements to the dashboard
We have redecorated the dashboard, to move the important information up to the top. We also added a section for upcoming events.
Expect further improvements. And feel free to tell us what's good, and what you would like to have changed!
Improvements to the route calculation
We have made several improvements and bug fixes in the route calculation. We also finally removed the old MapQuest generator completely.
A new option in the waypoint route generation config is to halt the generation completely. This allows you to create two completely separate routes, in one trip. This can be useful if you're flying from one place to another, and would like to have routes generated for waypoints on both sides of the flight.
Improved trip editing tools
We made several smaller improvements to the trip editing tools.
You can now delete waypoints directly from the map, and the page doesn't reload after deletion anymore.
You can use shift-select to select multiple checkboxes at once when deleting waypoints, copying/moving waypoints etc. We've also added highlighting of selected rows.
We added a new function to quickly copy waypoints from a cache to the trip. Useful for multi caches where you need to add comments to each sub-waypoint, or maybe want to do them in  a specific order or in-between other caches. This tool is available from the waypoint menu, if the caches has any waypoints.
We also added the possibility to edit trip names and places for subtrips  directly from the edit page for the parent trip.
Export comments to personal cache notes
We added a new tool to allow you to export comments on caches in a trip on cachetur.no, to your personal cache notes on geocaching.com.
The notes will be appended to any existing notes, and it will only be added once.
Improvements to admin and moderator tools
Admin and moderator tools isn't really something that gets too much priority. We spend more time on the user facing features. But this month we've made several smaller improvements to the tools.
The biggest change that might be visible, is that moderators now have full edit rights on all trip templates. This ensures that we can keep the quality up, even if the template owner isn't active anymore.
Misc
Added attributes, FP, hidden date and location to first log when exporting caches to GPX
Added a quick intro wizard
Added maps to upcoming mega events page
Added text to login page to explain that you cannot sign in with your geocaching.com credentials
Fixed bug causing ToDo-items to not always be saved
Upgraded to fancyBox3
Renamed sponsor to contributor
Fixed missing translation in trip invite notification mail
Added trips and own lists to API-list output
Added handling of trips to list-box on cache detail pages
Added easter egg
Added another easter egg
Added more text to intro wizard
Added our advent calendar for 2017
Removed thumbs down from trip templates (this should be a positive place)
Fixed bug causing corrected status not to be refreshed when quick editing coordinates for a cache
Removed outdated text on advent calendar list
Added some Christmas decorations
Installed FontAwesome 5
Added collapse to the todo list
Fixed issue with print of trip including subtrips
Improved error control in GPX-generator
Implemented parsing of URLs, to show title on links
Added alert for geocaching.com connection problems
Added more information to the Norwegian advent calendar list
Layout improvement in cache information panel
Improved handling of poorly written cache descriptions
Improved scroll-to-top function
Adjusted page margins for printing pages from cachetur.no
Fixed bug causing private files to be hidden from owner
Fixed bug causing cancelled trips to show on dashboard for invited users
Fixed issue with editing of ToDo templates
Minor layout improvement to advent calendar lists
Improved quick navigation in waypoint list
Added support for automatic synchronization between list and bookmark list
Added flags for Australian states/regions
Added license info and restructured "Special thanks to"
Added user option to only indicate DNF on caches with DNF logs in the last 5 log entries
Fixed problems with detection of duplicate caches in trips
This post is also available in:
Norsk bokmål (Norwegian Bokmål)